KNOXVILLE (WATE) – With the excitement surrounding the eclipse, many people across East Tennessee are holding solar eclipse parties.
WATE 6 On Your Side reporter Erin Barnett sat down with Julie Ryan, a mom and blogger for Less Than Perfect Life of Bliss, to talk about some inexpensive and easy ideas that kids will even enjoy. Give your guests the sun, moon and the stars with these eclipse themed snacks.
Eclipse Buffet
On average, it takes about 375 years for a total solar eclipse to happen again at the same location, so why not live a little?
We added anything we could think of that was "sun" or "moon" themed to create a drink, candy and snack buffet. Ideas include Sunkist, Capri-Suns, Sun-maid raisins, Starbursts, Milky Ways, Eclipse or Orbit gum and Sun Chips.

If you don't have a big table, fill "Space Junk" bags with your favorite eclipse-themed candy.
Sunshine cake
This takes five minutes to create and can serve as a focal point for your party.
What you need:
Round cake iced with yellow icing (Save time and order one from your grocery store bakery, just tell them to leave it plain) – Cost: $9.99
Pair of sunglasses (We found a pair at the dollar store) – Cost: $1.00
Small tube of black icing – Cost:$1.27
1 pack of sugar cones – Cost: $2.00
Instructions:
Simply place the sunglasses to the cake to create the face, then draw with black icing a simple smile. Gently place the sugar cones evenly around the outside of the cake to create the rays.
Mini Moon Pies
This list wouldn't be complete without the marshmallow, graham cracker and chocolate goodness that is a Moon Pie.
What you need:
1 pack of mini moon pies
1 small tube of yellow icing
1 pack of star sprinkles
Using yellow icing draw a crescent along the edge of your moon pie. Add a star sprinkle to the top of the crescent.
The Moon Pie began in 1917 when a Kentucky coal miner asked a traveling salesman for a snack "as big as the moon." Earl Mitchell reported back and the bakery obliged with a tasty treat aptly named MoonPie. It was filling, fit in the lunch pail and the coal miners loved it. The rest, as they say, is history.
Today, MoonPies are made by the Chattanooga Bakery in Chattanooga.
Cosmic Kabobs: A healthier snack option
Your guests will love you to the moon and back with these celestial creations.
2 English cucumbers
2 cups of cherry tomatoes
A star cookie cutter
A spoon
Kabob sticks
Use a cookie cutter and spoon to cut out the veggies in the shape of a star and crescent moon. Add them to the kabob. You can also do this with fruit. Just use watermelons or cantaloupe.
Rocket Dogs
M For Mommy
Take a hot dog and wrap it with Pillsbury Bread Stick Dough and bake it according to the instructions on the package. Push a skewer through the hot dogs and top with a triangle cheese.
Solar Eclipse Trail Mix
Mix up some eclipse inspired trail mix.
Just combine:
1 1/2 cups of "o" shaped cereal, like Cheerios
1/2 cup of Sunflower seeds
1/4 cup of Sun-Maid raisins
1/4 cup of banana chips
1/4 cup Mars company M&Ms
Mix together and store in an airtight container.
Pizza moons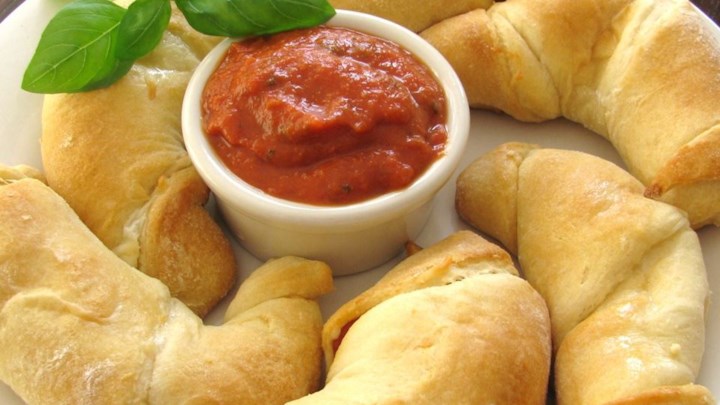 For a fun, lunar-themed appetizer, try pizza moons. Unroll crescents onto work surface. Top each piece of dough with shredded cheese and a few slices of pepperoni. Sprinkle on a bit more cheese, and roll into crescent shape. Place pizza "moons" on a baking sheet and bake for 12-15 minutes. Top with Parmesan cheese.
PHOTOS: Ultimate eclipse party snack ideas